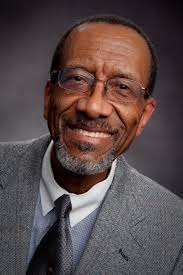 WENDELL W. BROOKS, PhD, JD
Background
Wendell W. Brooks is the third of four children born to John Milton Brooks and Beatrice Wyatt Brooks, both of whom were elementary school teachers.
Prior to reaching the state-mandated age to attend school, he began his formal public education in a segregated one-room schoolhouse – the Macedonia Elementary School – in Gastonburg, AL. A better description is that it was a clapboard shack. It had neither electricity nor running water. The school had several missing windowpanes and was equipped with student desks, a chalkboard, and a wood-burning, pot-bellied stove. A specific recess period was set aside during the school day wherein the male students were tasked with the responsibility of going into the surrounding forestlands to gather wood to burn in the stove for heat during the winter.
The county did provide second-hand books to the school, however. Whenever the white schools received new books, the black schools received the hand-me-down second-hand books.
After graduating from elementary school, Wendell enrolled in the Wilcox County Training School at Millers Ferry, AL. It was there that he spent the last five years of his formal public-school education, from seventh grade through 12th grade. He enrolled in Morehouse College in Atlanta, GA, but transferred after his Freshman year to the Alabama A & M (College) University in Normal, AL. He graduated, with honors, from that University with a Bachelor of Science degree in Chemistry and Mathematics.
The following school year, he enrolled in another HBCU – Fisk University in Nashville, TN – where he earned a Master of Arts degree in Chemistry and Physics. As part of his research endeavors, he developed several penicillin-related compounds. The major advantage of these compounds was that, in contrast to the complex synthetic methods used to synthesize various penicillin compounds, these compounds could be prepared via a relatively simple synthetic pathway.
His next step in pursuit of a higher level of formal education was to enroll at the University of Vermont in Burlington, VT. Wendell graduated, with honors, with a Doctor of Philosophy (Ph.D.) degree, with a major in Organic Chemistry and a minor in Biochemistry. He was the first black Ph.D. graduate of the University. His research project involved the synthesis of a natural product known as acorone. The compound was of interest because it showed promise as a therapeutic agent for a multitude of maladies from which human suffer, as well as utility as a perfume ingredient.
Having received the Ph.D. degree, upon a recommendation by the Governor of Alabama, he accepted a faculty position as an Associate Professor of Chemistry at the Alabama State University in Montgomery, AL. Wendell remained at that institution of higher learning for three years, including one year that he spent at Duke University in Durham, NC as a Post-Doctoral Research Fellow under the sponsorship of a National Science Foundation Fellowship.
Following the three years as a faculty member at the Alabama State University, He enrolled in the Washington University in St. Louis School of Law (St. Louis, MO), from which Wendell graduated with the Juris Doctoris (J.D.) degree. With his J.D. degree in hand, Wendell accepted a position as a Patent Assistant at the Monsanto Company in St. Louis, MO. Thereafter, having passed the Missouri Bar Examination and the Patent and Trademark Office Bar Examination (both on the first attempt), he spent the next 25 years providing legal advice and counsel relating to Intellectual Property matters to a variety of Business Units of the Monsanto Company. Among the various businesses for which he served as Lead Patent Attorney were (a) acetic acid, which synthetic preparative process, to date, remains the leading commercial process for the production of acetic acid; (b) maleic anhydride process and catalyst which, until the business was sold, was licensed around the world as the premier commercial process and catalyst for the production of the compound; (c) Phos-Chek® fire retardants used by the Department of Agriculture and the Forest Service to fight forest fires; (d) bulk aspirin used by manufacturers of over-the-counter aspirin; and (e) a unique fiber known as phosphate fiber which has a multitude of uses, including medical use. During that interval of time, he advanced from Patent Assistant through several grade levels to Senior Patent Attorney.
After 25 years of practicing law for the Monsanto Company, Wendell took early retirement and spent the next year traveling the world. He then accepted a position as an Assistant Professor of Chemistry at the Harris-Stowe State University, an HBCU located in St. Louis, MO. He has now spent more than 20 years providing service to up-and-coming generations of aspiring scholars matriculating at the Harris-Stowe State University.
He is a member in good standing of the Missouri Bar, the Bar Association of Metropolitan St. Louis, the American Bar Association, the American Patent Law Association, the Patent and Trademark Office Bar Association, and the American Chemical Society.
Guidelines
Each school district or educational institution is permitted to select one honoree for every 500 full-time teachers. If your school district or educational institution has less than 500 full-time teachers, select one honoree.

Only teachers who have completed three or more years of employment at their current school are eligible to be selected, and a teacher cannot be nominated for the same school district more than once.


The teacher of the year will be selected from nominations recevied from each college. The faculty senate members will vote for the nominated faculty members.