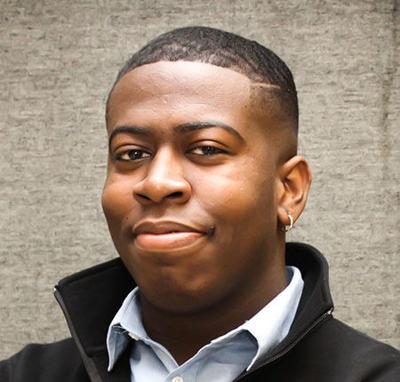 Wesley Agee, a 2019 Biology graduate of Harris-Stowe State University, has recently received and accepted an offer into the Molecular Cell Biology Ph.D program at Washington University Medical School. WashU has also awarded Agee the Chancellor's Graduate Fellowship which provides academic, professional, and personal support for grad students who enhance the mission, diversity and excellence of Washington University in their chosen field.
However, a year ago, Agee was saddled by fear and rejection. He had been turned down from several Ph.D programs, and started to fear he wouldn't gain admission. But instead of giving up, he humbled himself and got to work, the rising researcher said.
"I eventually participated in summer research covering the effects of COVID-19 in minority communities," Agee wrote in a recent LinkedIn post. "I then (accepted) a position as a Post-Bac within the Molecular Genetics and Genomics Department at WashU. At this time, I also completed a few online courses through John Hopkins University. This resilience (led) me to gain acceptance into multiple doctoral programs during the current application cycle. Including acceptance from multiple programs that had denied me an interview the year before."
Using downtime to re-strategize
Agee was also not immune to the challenges the Covid pandemic posed. Rather than wallowing in the struggle, he used the downtime during the quarantine to re-strategize.
"I took COVID-19 as a time to self-reflect and look for areas of improvement within myself," Agee told HSSU. "I used the time during quarantine to improve my physical and mental health, to reconnect with friends and family, game-plan and strategize for what the next year will look like for me. This allowed me to set particular goals and achieve them, which ultimately gained me acceptance into a world-class institution."
HSSU helped launch my career
As students continue to bounce back from challenges, Agee encourages everyone to take advantage of the many programs available to them on campus.
"HSSU afforded me multiple opportunities internally and externally to develop as a researcher," Agee said. "Though we are considered a 'teaching institution,' I was able to participate in multiple research projects spanning plant science and sustainability to work in Drosophila model systems. I presented at multiple regional and national conferences during my time as a student, forming connections with various students/faculty around the country. The resources poured into me didn't only promote my professional development but were vital in helping me formulate my identity as a black male in Science Technology, Engineering and Math (STEM)."
One of the programs Asgee hopes students will utilize is the Opportunities in Genomics Research (OGR) at WashU which Agee participated in. OGR invites talented and motivated students to participate in their summer undergraduate research program, or the post-baccalaureate, extensive study programs. The application deadline for this summer is April 15.
"I can personally attest to the benefits of this program for students who are particularly interested in continuing their education and obtaining advanced degrees within the biomedical sciences," Agee said. "It allows students to almost fully integrate themselves into the graduate culture and environment, where there is also heavy guidance provided during the graduate application process. I hope more HSSU students take advantage of this opportunity as I have. This extraordinary program also boasts a 95% placement rate for students applying to doctoral programs."