Special guests include Missouri Gov. Mike Parson, U.S. House Rep. Cori Bush, Chairman of HSSU Board of Regents Ronald A. Norwood, Keynote Speaker Dr. Ruth J. Simmons, and more.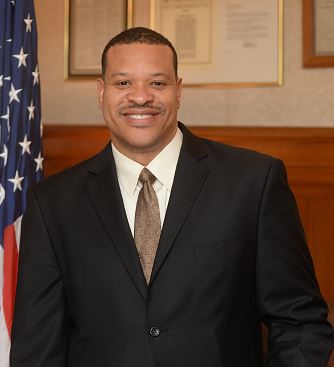 By Malena Amusa
Dr. Corey S. Bradford, Sr., a St. Louis native and the President of Harris-Stowe State University (HSSU), will be inaugurated as the 20th President of the University on April 9, 2021 in a virtual ceremony that will be live-streamed on Harris-Stowe's Facebook page at 10 a.m.
Dr. Bradford began his tenure at Harris-Stowe on May 1, 2020, during the COVID-19 global pandemic.
"I am honored to build on the great heritage of Harris-Stowe and help steer the University in a new direction," Bradford said. "Despite the challenges we face, we will redefine our future in a way that brings pride and that unapologetically bridges our scholars to success. Our time is now. This is our season."
At the inauguration, Dr. Bradford will be joined by campus representatives and several local, state, and national officials and dignitaries, including Missouri Governor Mike Parson; Cori Bush, U.S. House Representative of Missouri (District 1); Atty. Ronald A. Norwood, Chairman of the HSSU Board of Regents; Steven Roberts Jr., Missouri State Senator (District 5); LaKeySha Bosley, Missouri House of Representatives (District 79); and Atty. Zora Mulligan, Commissioner of the Missouri Department of Higher Education.
Keynote Speaker Dr. Ruth J. Simmons, the President of Prairie View A&M University in Texas, will also be in attendance to give remarks, followed by a speech from Dr. Bradford in which he will share the cornerstones of his transformational vision and plan for the University.
"Harris-Stowe is the only Historically Black College and University, and public four-year institution of higher education in the City of St. Louis," Bradford said. "My aim is to continue to leverage our position to recruit and retain diverse scholars, support our faculty and academic programs, and provide our scholars remarkable pathways to in-demand careers. During my tenure, the positive impact on our city and region will be evident."
From humble beginnings to proven leadership
Since becoming President of Harris-Stowe, Dr. Bradford has been a strong proponent of student success and invites people to come and witness the Harris-Stowe "magic" themselves.
"That magic is the ability to turn your struggle into a positive opportunity," he said. "And that magic is something I share with many of our student scholars here at Harris-Stowe."
Born to teenage parents in St. Louis, Bradford encountered many life challenges earlier than most children. Despite this, however, his parents instilled within him a belief that he could achieve anything he set his mind to. Bradford happened to be born on his mother's birthday and will never forget the day she told him that "I was her greatest gift," he said. Bradford's father was a proud Marine and war veteran who provided a constant example of leading with dignity and honor. At the same time, his grandmother and aunt helped to raise him, nurturing Bradford in a way that gave him the courage to chase his dreams. At the age of 14, Bradford entered the Academy of Math & Science High School and discovered his love of math. He ranked among the top 20 in his high school class and played baseball and basketball for four years.
Following his passion, Bradford left St. Louis to pursue a Bachelor's Degree in Mathematics from Southern Illinois University - Edwardsville (SIUE), and later, a Master's Degree in Applied Mathematics and Statistics from SIUE as well. In 2008, Bradford earned his Ph.D. in Higher Education Administration from Southern Illinois University - Carbondale and an educational certificate from the Harvard University - Institute for Management Development.
With a knack for numbers and a love of people, Bradford embarked on a 27-year career in finance and education that allowed him to break ground in his field.
In 1995, he was hired by the Southern Illinois University (SIU) System as a budget officer, eventually becoming the Assistant Vice President for Financial and Administrative Affairs. During his time with the SIU system, Bradford played a key role in securing $3 billion in state appropriations.
After SIU, Bradford joined Prairie View A&M University in Texas where he served as the Senior Vice President for Business Affairs. At Prairie View, he developed an extensive record of accomplishment, and worked with students, faculty, staff, and alumni, along with local business and civic leaders, to advance the University's mission. He also spearheaded many improvement projects in line with the University's strategic plans, including the completion of a state-of-the-art football stadium and over $300 million in enhancements to the campus.
A homecoming and calling
When the opportunity arose to lead Harris-Stowe, Bradford felt it was a divine and historic homecoming and calling.
"Coming back to St. Louis has allowed me to reconnect with my family and friends, and join the dedicated Harris-Stowe family to embark on this historic transition," Bradford said. "Harris-Stowe State University is the place where our young, gifted, and diverse students thrive. This University will be the engine to move our communities forward by the important work that we do. And, as our communities flourish, so will our region and nation."
Reflecting on his new chapter, Bradford also shared gratitude for the many people who have helped him to reach this point in his life.
"They have allowed me to proudly serve the St. Louis community and the state of Missouri as the 20th President of Harris Stowe State University," he said.
One of those people is his wife of 27 years, Dr. Josette Bradford. "My journey would not have been possible without her," said Bradford, a doting husband and father of two adult twins. "She is the rock of our family."