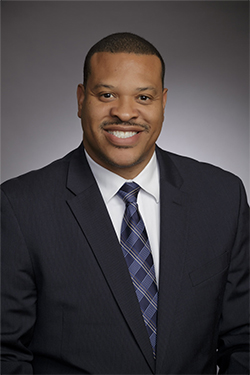 The Board of Regents of Harris-Stowe State University (HSSU) unanimously selected St. Louis native Dr. Corey S. Bradford, Sr. as HSSU's 20th president.
In addition to earning various advanced degrees during his time away from St. Louis, Dr. Bradford has worked in higher education for more than 26 years. Prior to coming to HSSU, he served as Senior Vice President for Business Affairs at Prairie View A&M University (PVAMU). He also served for 16 years within the Southern Illinois University System in various leadership positions, including the Assistant Vice President for Financial & Administrative Affairs and Assistant to the Vice President for Planning and Budget. Bradford earned a Ph.D. in higher education administration from Southern Illinois University; a Harvard Institute for Management Development Educational Certificate from Harvard University; and master's and bachelor's degrees in mathematics from Southern Illinois University Edwardsville.
"The Board is thrilled Dr. Bradford has decided to return to St. Louis to serve as the next president of Harris-Stowe and believes his vast experience, boundless enthusiasm and creative vision will continue to propel the University to new heights," said Ronald Norwood, chair of the Harris-Stowe Board of Regents. "We believe that these attributes, coupled with Dr. Bradford's demonstrated leadership ability, financial acumen, and student-centered focus, will not only greatly benefit Harris-Stowe, but will also positively impact the entire St. Louis region."
At PVAMU, Dr. Bradford developed an extensive track record of working with students, faculty, staff and alumni, along with local business and civic leaders, to advance the university's mission. In 2016, he served as the executive sponsor for the development of a new university strategic plan for PVAMU. His leadership throughout its implementation established fiscally sound practices that increased cash reserves over $170 million. A record for the university, the increase allowed for reinvestments toward hiring faculty, faculty development, upgrading classroom spaces and technology, supporting faculty research, and establishing scholarship opportunities.
"Harris-Stowe is uniquely positioned to be a leader in STEM-related degree attainment, workforce and economic development and diversity, equity and inclusion in the St. Louis region and the state of Missouri. Dr. Bradford was chosen from a global pool of tremendous candidates for his results-oriented leadership and broad vision for the university," said Vanessa Cooksey, vice chairwoman of the Harris-Stowe Board of Regents and chair of the Presidential Search Committee. "I am thankful for the time and talent invested by the Presidential Search Committee in partnership with AGB Search. The selection process included a robust stakeholder engagement effort and rigorous assessments over the last seven-months to ensure we selected the best leader for Harris-Stowe."
"I am honored and humbled to be appointed the 20th president of Harris-Stowe State University. I have great admiration for what Harris-Stowe has achieved for over 160 years, and I am extremely excited to be a part of the university's bright future," said Dr. Bradford, president of Harris-Stowe State University. "This is also a dynamic time for me to return to my hometown to advance Harris-Stowe's impact on our citizens and lead its growing reputation as an innovator in the HBCU community."
Bradford succeeds former president Dr. Dwaun Warmack, who left Harris-Stowe in August of 2019. Current interim University President Dr. Dwayne Smith, who has served in various capacities at HSSU for 14 years, has provided invaluable stewardship for the University during this transition.
Presidential Search Committee members included Vanessa Cooksey of Washington University in St. Louis (Chair), Dr. Lynn Beckwith, Jr. HSSU Alumni, David Dawkins of Wells Fargo Advisors, James Fogt of HSSU, Alexandra Green HSSU Student, Michael Middleton of the University of Missouri, Kathy Reeves of Enterprise Holdings, Lea Sutherlin of HSSU, Dr. Owolabi Tiamyu of HSSU, and Ronald Norwood of Lewis Rice.