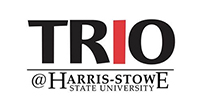 STUDENT SUPPORT SERVICES
Student Support Services (SSS) at Harris-Stowe State University is a TRIO program dedicated to developing and graduating first generation, low-income and students with disabilities. Our mission is to provide students with academic and support services in a safe environment as they move towards successfully completing a baccalaureate degree.
SERVICES PROVIDED
Student Support Services offers a variety of services to ensure that students at HSSU are successful in their academic career. All SSS services are FREE to HSSU students and include, but are not limited to the following:
Academic Coaching/Advising
Academic Success Workshops
Career & Graduate School Exploration
Community Service Opportunities
Cultural Enrichment Activities
Financial Literacy Education
Financial Grant Aid (for eligible students)
Tutoring (English, math, reading & writing)
Technology Equipment Loan (laptops & tablets)
ELIGIBILITY
Harris-Stowe State University students who meet one of the following criteria are eligible to participate in the program:
A first generation college student (neither parent completed a bachelor's degree)
An individual whose household meets federally established low-income guideline as defined by the U.S. Department of Education
An individual with a documented physical, psychological or learning disability
STUDENT RESPONSIBILITIES
Students who are selected to participate in Student Support Services must:
Meet with their SSS Student Success Coach a minimum of two times per semester
Participate in a minimum of four activities each semester with the SSS program
Complete a Financial Literacy Course
JOIN
Interested student should print and fill out the Student Support Services Program Eligibility and Participant Application. Completed applications can be returned to Student Support Services via mail, email or in person.
CONTACT INFORMATION


Harris-Stowe State University

Student Support Services

Academic Resource Center, Room 013

Dr. Henry Givens Jr. Administration Bldg.
HOURS
Monday-Friday: 8:00am-5:00pm
STAFF
Alandrea Stewart
Director, Student Support Services
Phone: (314) 340-3670
Email: stewarta@hssu.edu
Kehven Williams
Student Success Coach
Phone: (314) 340-3307
Email: WilliaKe@hssu.edu
RESOURCES