Buy-A-Brick Project Commences!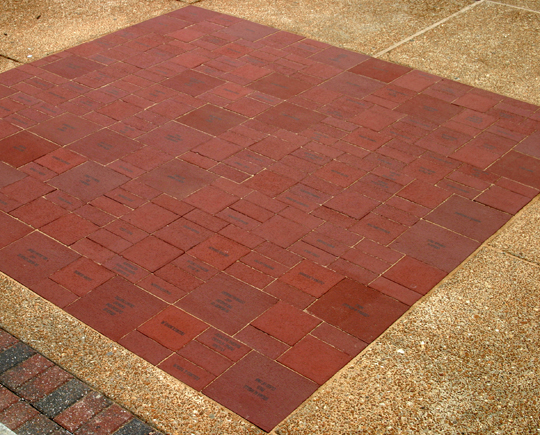 The first phase of the Buy-A-Brick project has been completed! Thanks to a generous $71,000 donation from the Harris-Stowe State University Alumni Association and the contributions of Harris-Stowe alumni and friends, the first bricks have been laid in front of the main entrance of the Dr. Henry Givens Jr. Administration Building.
All proceeds from the Buy-A-Brick project benefit the University's campus expansion fund. Plans to lay additional bricks in the second phase are already underway. For a gift of $250, $500 or $1000, those who donate to the Buy-A-Brick Campaign can have their name and year(s) of attendance or graduation date inscribed on a brick. The amount of the gift determines the size of the brick. Sizes and amounts are as follows:
| | |
| --- | --- |
| Gifts | Size in Inches |
| $1000 or more | 12x12 |
| $500-$999 | 8x8 |
| $250-$499 | 4x8 |
You do not have to be an alumnus to buy a brick. You don't even have to buy the brick for yourself. This is an excellent way to honor a friend or loved one — parent, child, favorite teacher or anyone to whom you would like to give a permanent place in history. Groups can purchase a brick as well. Don't miss this chance to ensure that you, or someone you care about, will have a lasting memorial on the new Harris-Stowe State University campus.
In addition to the $71,000 from the Alumni Association, Dr. Wilma Wells donated $10,000, and the Danforth Foundation, of which she is Vice President, matched her generous contribution. We need your help to meet our goal. If your employer, or your spouse's employer, has a Matching Gift program, you may be able to double or even triple your donation. You can download a copy of the Buy-A-Brick Campaign form here (Buy-A-Brick Application). Just fill out the form and send your contribution or pledge to the HSSU Alumni Office at 3026 Laclede Ave., Room 110, St. Louis, MO 63103.