HSSU IT Services is working to create pathways to technology resources as part of a comprehensive university response to COVID-19. We also recognize that some students, faculty, and staff may have challenges accessing and using key technology resources required for the teaching, learning, and service routines of the university community. If you are one of those individuals, we'd like to hear from you. Please fill out the following form regarding any technology challenges you are having or anticipate having.
We will also be providing additional information below to help technology users find and utilize resources that may meet their particular needs. We believe that now is a great time to learn and utilize new software and services. We commit to making those resources widely available as they become a part of HSSU's technology offerings. Feel free to visit this page often to find explore current and new resources.
INTERNET SERVICES
We understand that there may be challeges for some individuals with obtaining the internet services at home. While HSSU cannot provide internet services direction to members of our community, some internet service providers offer temporarily free or discounted services for campus constituents. Please check your local internet listings for services in your current area. For those who have Comcast in your area, you may be interested in their extended 60 day free internet service for new customers. For more information please visit Comcast Response to COVID-19.
SOFTWARE FOR EVERYONE
(We strongly recommend that students, faculty, and staff use Microsoft Online for their work. The student versions are 100% compatible with faculty and staff versions of the software. This makes it easier for everyone to work together efficiently.)
You may or may not know the full extent of software that is available through your campus Microsoft account. Not only do students, faculty, and staff have access to email, they also have access to downloadable, full versions of Microsoft Word, PowerPoint, Excel, and Outlook. These tools can also be used within a browser environment so users can automatically store new documents in the cloud. To access MS Office Software, log into your email account through a browser and click on the tile icon in the upper-left-hand-corner of the page: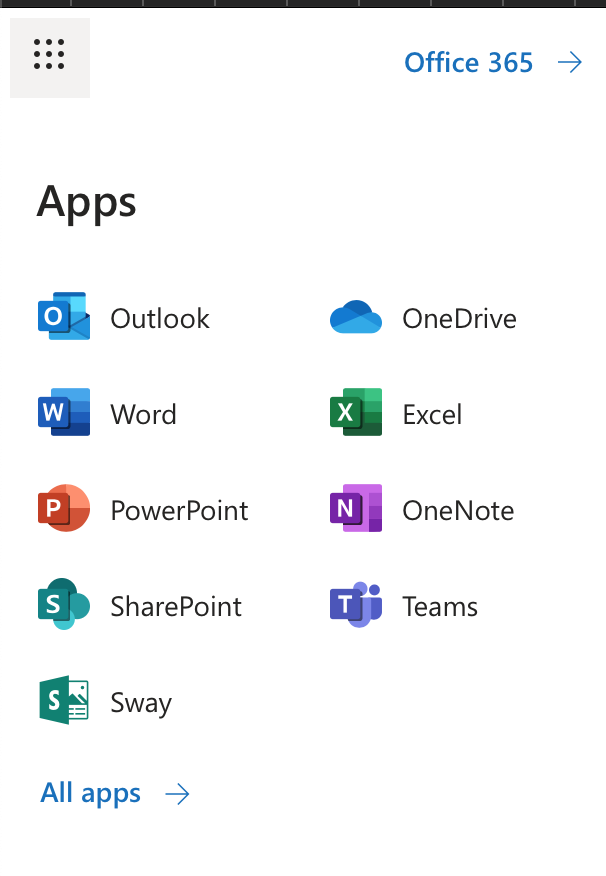 SHAREPOINT: Exchange documents securely with teams and groups. This is a great tool for collaboration.
ONEDRIVE: Another MS document management tool that is designed to store and share documents quickly. OneDrive is quick and easy to use whether you are storing documents for yourself or a group.
TEAMS: MS Teams is a great tool for chatting, scheduling, and tracking progress of team activities. Get a partner or a whole office on the same page by using the Teams integrated environment. Please note that this product replaces Skype and Skype for Business.
ONENOTE: A tool for keeping track of information that you need to refer back to later.
FORMS: Need to run a survey or create an event sign-up page? Try Forms online.
SWAY: Your way to create an interactive, story telling website. This is a great way to present a project for a class that helps get the message across in more intersting ways.
PLANNER: Get the job done and assign accountability by using MS Planner. This is a good tool for teams trying to get work done and knowing where they are at all times.
AND MORE: Whiteboard, Video, Yammer, etc.
You can download full versions of Word, PowerPoint, Excel and Outlook by clicking on the Office 365 link and then Install Office.