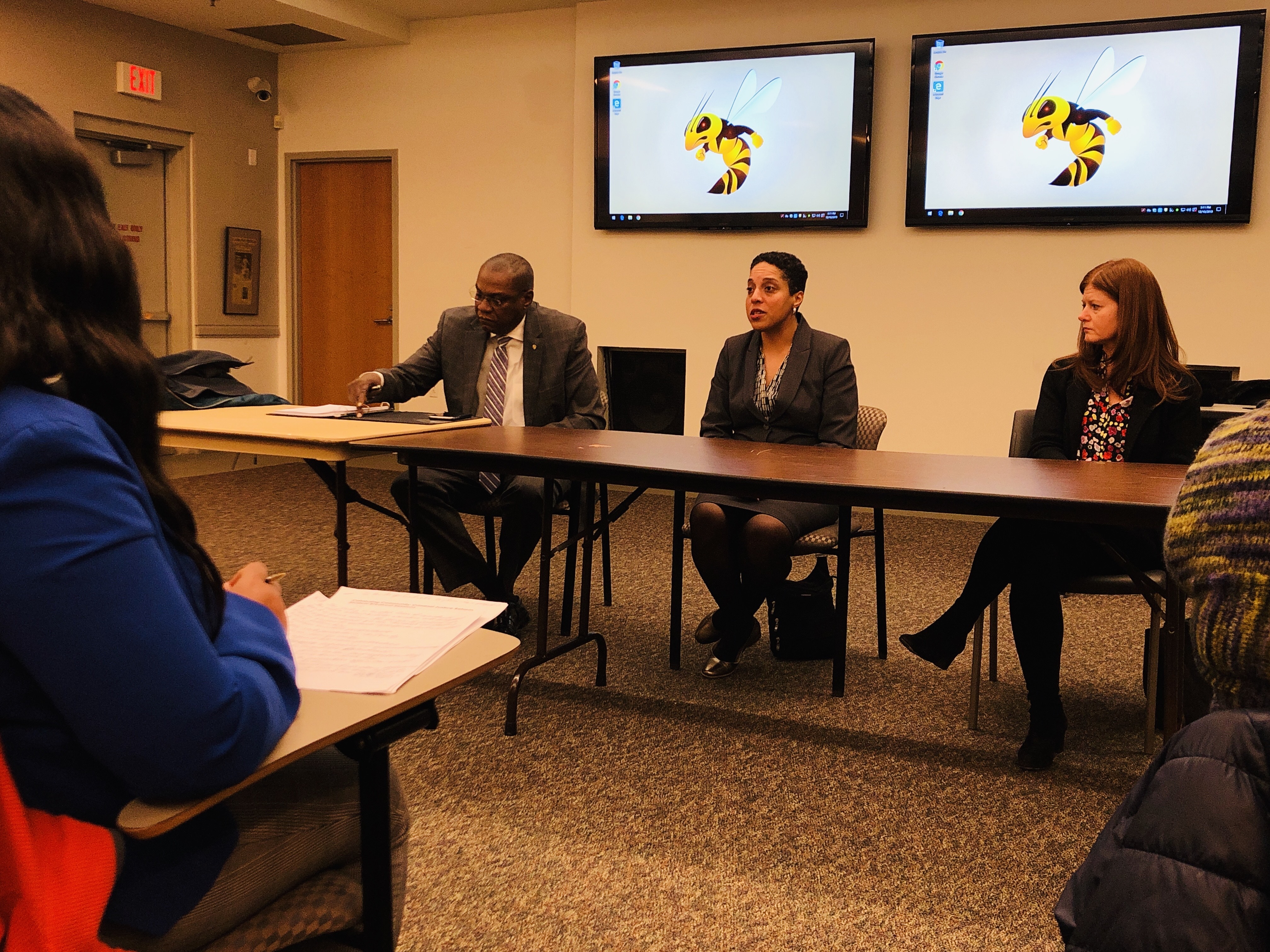 The St. Louis City Branch of the NAACP, in partnership with the Social Justice Institute, held their event, Catalyzing Community Criminal Justice Reform, at Harris-Stowe State University.
The event took place in the Telecommunity Room in the AT&T Library on Tuesday, Dec. 11 in the afternoon. It was an open dialogue featuring Circuit Attorney Kim Gardner and Sr. Legal Counsel Molly Gallivan from The Justice Collaborative.
Gardner, who is a Harris-Stowe alumna, talked about her role as the first African American Chief Prosecutor in the City of St. Louis. Her office has a Conviction Integrity Unit, which checks to see if people are victims of wrongful convictions.
"My duty does not end when a person pleads guilty to a case," Gardner said. "It is a part of my duty to say when mistakes have been made and to correct them."
During her portion of the discussion, Gardner talked about how conviction integrity units right the wrongs of the past by releasing innocent people from prison. The current case they are working on is for Lamar Johnson, who is serving a life sentence for a crime other people have confessed to under oath.
"If this case were presented today, I don't believe he would have been found guilty," Gardner said. "There is no time limit on justice; justice is sometimes raising your hand to say that something is wrong."
HSSU students had the opportunity to speak directly with the criminal justice professionals, giving them a chance to experience what it is like to be a part of conversations with decision makers.
Dr. Candice Idlebird, Director of the Social Justice Institute, said, "This event showed our kids how you not only can have a seat at the table, but also a voice to ask questions and bring ideas."
Idlebird talked about how the conversational event, for the HSSU students selected to attend, was made for them to get a better understanding of the criminal justice work done in St. Louis.
"It's not only about being in a position where you are surrounded by prominent decision makers, it's about making an impact," Idlebird said.
More than 20 Harris-Stowe students attended the event where they listened to the guest speakers and asked various questions.
Of these students, Adam Mundy, a freshman majoring in business marketing, came to the panel discussion to gather a better understanding on criminal justice in today's society.
"I feel that there needs to be a better system to put people in the criminal justice system because there have been more times than we can count when the law was unfair and against us as a community," Mundy said.
Mundy said he believes Harris-Stowe is serving the student body by creating more conversations around bettering our community.
"The NAACP and organizations on campus help put many similar events on to help us get a better understanding on how our coursework relates to what's going on in the world," Mundy said.
Harris-Stowe State University provides educational opportunities for individuals seeking a rich and engaging academic experience. We offer programs designed to nurture intellectual curiosity and build authentic skills that prepare our students for success in a diverse society.